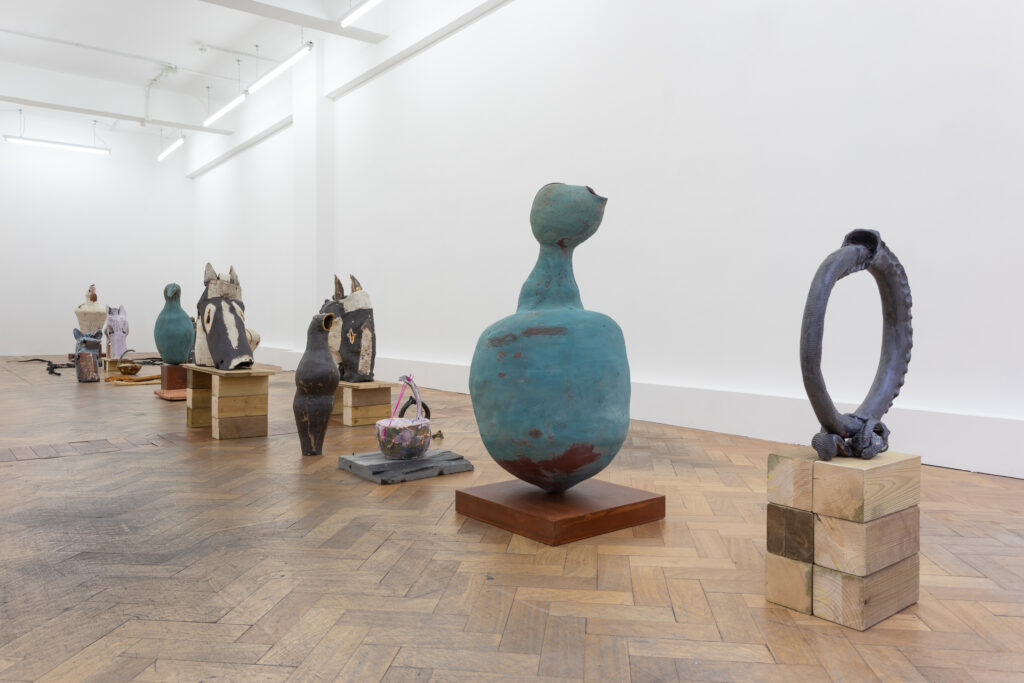 For bun babylon; a heretics anthology, Phoebe Collings-James is exhibiting a new series of ceramic sculptures that embody the artist's heretics.
The anthology begins with a cast of six characters: The Infidel, The Dreamer, The Guardian, The Silo, The Cypher and The Preacher. Delving into the intricacies of these figures, all of whom are imbued with the potential for dissent, the show documents the artist's process of setting imperial wastelands on fire as the clay body travels through the kiln inferno. The figure of heretic is one that has historically been weaponized as outsider, truth-sayer and traitor. Yet the heretic can also be a symbol for revolt, a beacon around which collective action organises.
Using sgraffito techniques Collings-James' sculptures contain a symbolic language (visible, partially visible and concealed) that has developed over years. Hand carved roulettes (referencing various African pottery traditions) are rolled across the clay's surface creating repeat patterns and words. Fingers and tools produce further text, imagery and patterns, in oxide colours and tin glazes, punctuating the surface of purple-hue fired red and black clays. Clay-as-language, or even hearsay, has been inspired by cuneiform clay tablets of Babylonian and Sumerien origin, forming a direct link to the earliest known forms of communication, and providing another route for thinking about truth. This show considers linguistic representation as something embodied, experienced, passed down and subject to shifts over time. Through the material itself, along with the processes and modifications made by Collings-James, these works call into question euro-centric modes of knowledge building and epistemologies.
Echoing Collings-James' wider practice, the parade of characters that line the centre of the gallery, focus on various portals of divination, dialogue and anarchy. The works are seeking routes for mystic support systems, deepening connections to intuition and resistance to capitalist modes of reason. Inscriptions include the quote Blood earth, Brother earth, Blood brother earth by Aime Cesaire and lyrics from Black Roses by Barrington Levy, 'Black, black roses in my garden…you got to water it…you got to tend to it' as well as the incitements of 'fire' and 'flood'. Acknowledgement of Caribbean resistance and consciousness is vital for this new body of work, as is an ongoing desire to understand the materiality of clay—part of the artist's reckoning with how to live in the mundane yet licking flames of the metropolis.