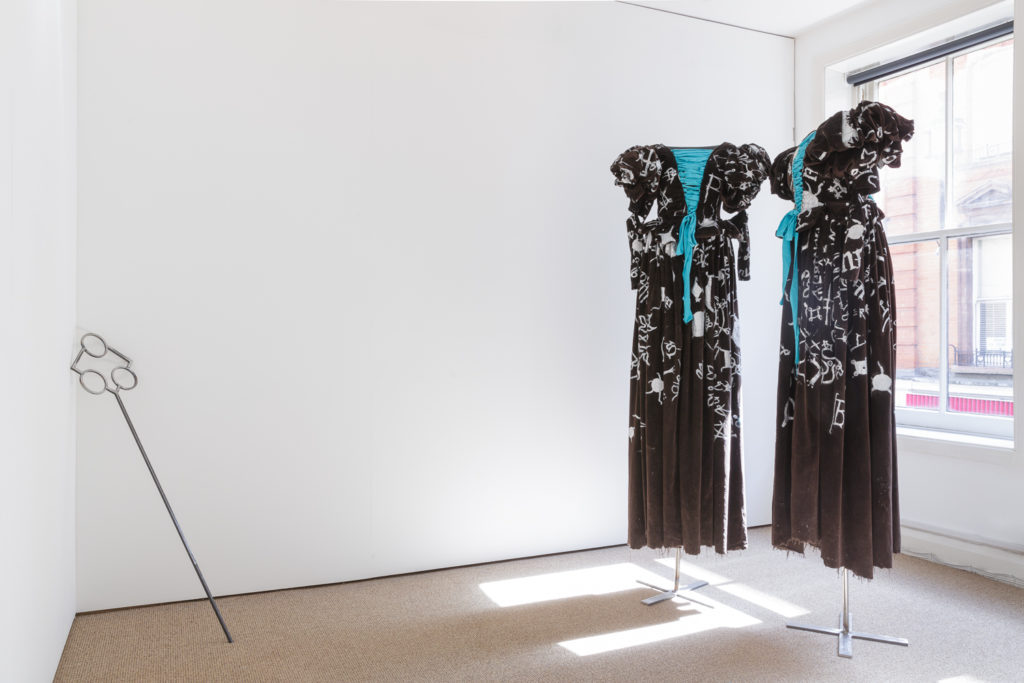 Thrust into hidding recordings
Always tracing cracks, the well just breathing, cascades
The women, inhaled mud, trickles, powdered blue
Endless mudflats
Programmed to circle, pause, slam.
Breathing out
Pores and fibre flood, drain.
For the inaugural exhibition in the gallery's Soho location, Arcadia Missa presents Cealdwiellla, an exhibition by New Noveta, including sound, costumes and props from their eponymous performance. The performance took place, in collaboration with Sophie Sleigh-Johnson, at Arcadia Missa, Peckham on the 5th of April. The sound piece includes recordings from the performance and a transmission from Runwell, Essex which was broadcast live on the Arcadia Missa website at the time of the performance.
The performance/transmission audio will be replayed on Resonance 104.4 fm on the 16th of April.

Costume design by Gabriella Massey of Atelier Bâba

Mixing and transmission by Vindicatrix
Workslist (from left to right):
Ellen
2018
Mixed media sculpture: Textiles, tailor's dummy, steel. Dimensions approximate: 185 x 70 x 40 cm
Keira
2018
Mixed media sculpture: Textiles, tailor's dummy, steel. Dimensions approximate: 185 x 70 x 40 cm
Sophie
2018
Steel. Dimensions approximate:120 x 25 x 3 cm
Cealdwiellla
2018
Sound in collaboration with Sophie Sleigh-Johnson and Vindicatrix: 19 minutes 1 second
In office:
Cealdwiellla
2018
Framed C-type print, edition of 3 + IIAP: 59.4 x 84.1 cm