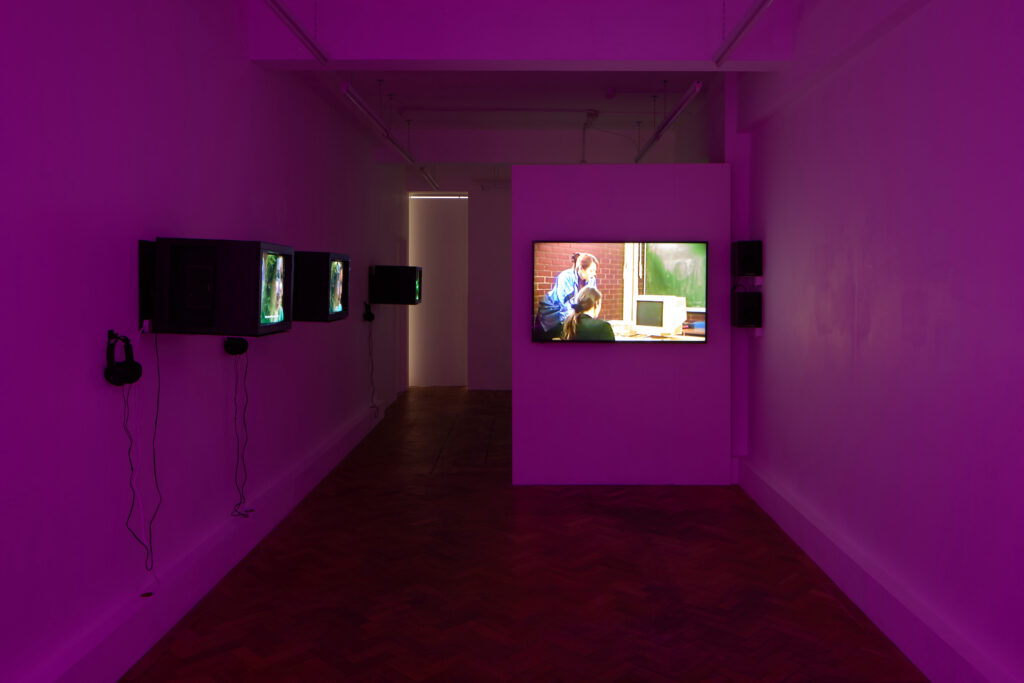 Electronic Witches is a multi-channel video installation by Maja Čule comprising nine videos. The story in Čule's installation takes place in 1990s Croatia following two activists–one from the USA and one from the UK— who moved to the Balkans with the objective of teaching women how to use Bulletin Board System (BBS) networks to send emails. BBS networks were prevalent before the widespread use of the World Wide Web, and key to early internet activism. These activists, known as "Electronic Witches", educated women across Croatia, Bosnia and Herzegovina, and Serbia about computers and the Internet during the Yugoslav Wars.
Taken from Čule's ongoing project and feature-length film, the videos in the exhibition move across re-enacted footage of the Electronic Witches workshops (video 5) and interviews with the participants (video 3;4), found footage from the archive of Croatian Radio Television (video 6), VNS Matrix's cyber feminist manifesto (video 7) and an AI transcription of an interview with the Electronic Witches themselves (video 9). As well as 3 sculptures collating clips of glitching TV broadcasts projected on pages of Računari and VID (Croatian magazines about computers).
During the Yugoslav wars, some of these Western Internet activists found their way into the separated states to help establish local computer servers that enabled cross-border communication otherwise cut up by the military state leaders. The ZaMir network ('za mir' – 'for peace' in Serbo-Croatian) enabled local activists to exchange information and messages by connecting to the same Bulletin Board System (BBS), which was running on hacked dial-up networks, and could deliver a message from, for example, Kosovo to Zagreb within a day – a speed of connectivity unattainable otherwise.
From a non-Western perspective, the communitarian society might appear as a 'controlled opposition', not due to the community's reluctance to embrace the worst outcome already manifested in today's profit-driven and control-oriented Internet, but because the stakes were never as high for free internet activists in war-free Europe or North America in the first place. Čule's show touches on this, whilst also exploring the Feminist tensions arising from the differing positions of the West and Eastern Europe.
​​Maja Čule's Electronic Witches is based on historical events, staged, read and embodied by contemporary characters with archival footage from Croatian Radio Television. The cast is predominantly queer, first-time actors unfamiliar with the history behind the Electronic Witches prior to filming. Čule preferred to lead the participants to explore their early internet experiences from memory.
Deconstructing the process even further, the film has been shot entirely in Croatian, a language with a narrower online vocabulary compared to the Anglo-Saxon languages and also not the first language of many of the participants. This linguistic challenge adds to a decidedly authentic slippage, with one screen featuring an actor struggling to read the VNS cyberfeminist manifesto in Croatian. These struggles represent a new group of womxn who gained access to online networks after the fall of Yugoslavia and the Soviet Union, highlighting the technological and linguistic divides and the emergence of new identities.
Following the collapse of Yugoslavia, media and government partially regressed into patriarchy. Croatian Radio Television was (and still is) publicly owned. Čule employs narrative techniques to counter media propaganda with their own tools, generating alternative content within the cultural sphere in hopes of materialisation.
Contemporary leftist feminist discourses in Eastern and Western Europe, while converging in some aspects, have followed distinct paths. In Eastern Europe, involvement in this discourse mainly began during third wave feminism, without significant prior waves. Despite communist ideology's stated commitment to gender equality, women often served as commodities, whether as workers for the State or as ideological pawns in constructing a narrative of gender inequality in the West. The reality of people's everyday lives was of course very different.
Čule brings together cyberfeminism and queer politics to construct an alternative history, in which those cultural roots can be cut. Working from New York and exhibiting the piece in a London gallery (and within a Western discourse), Čule acknowledges Eastern European womxn providing a place for them in contemporary waves of feminism. They position these womxn in a world of vertigo, using tactics of rewriting history, which are so very familiar to post-communist identities.
On a less local scale, in Čule's work, internet connectivity takes on a more critical and pressing significance, dispelling the heroic Western protagonist's triviality. However, Čule's historical exploration doesn't provide immediate solutions, be it to Eurocentric historiography or political issues in Croatia. Instead, the 'positive anti-reason' challenges the assumed rationality of 'controlled opposition' by uniting with the witches in a timeless transhistorical struggle against oppression. Faced with such an adversary, the Electronic Witches opt for a fight fueled by love, care, and technology. They establish global connections through the clitoris, a direct link to the Matrix. They are both modern cunt and future cunt.