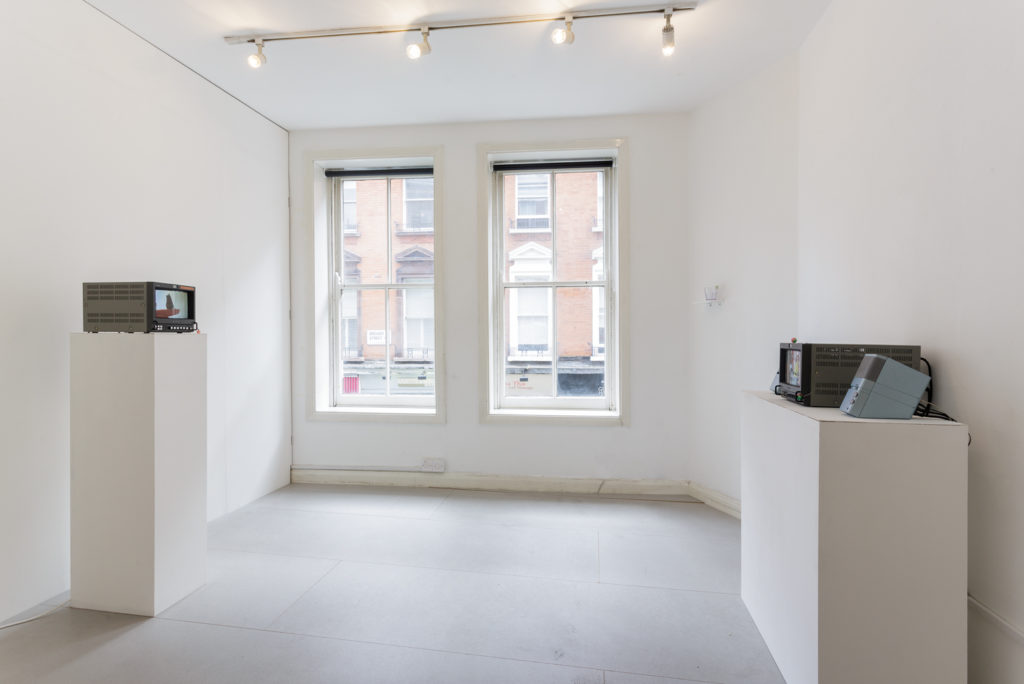 you come into a room
and are moving room to room
because of sound
when you want to leave one room, you can. and you can go into another
and be
reborn
This is the best part.
you can sip if you want to
but you can also just hold an empty cup
and move room to room.
On two TV sculptures, Maggie Lee presents music videos.
The visuals are set to the music of Galcher Lustwerk and Miho Hatori's New Optimism. They play
concurrently.
There is a stamp for entry.
On the wall, a framed body– an image of a birth, twins built of disco ball parts.
And, finally, a cup from a venue.
In the gallery's office, a concoction of magnesium powder and glitter crystalline is adhered to paper.
~Whitney Claflin
Workslist (from left to right):
Birth of Twins, 2018
Disco tiles on paper, framed
39 x 33.5 x 4 cm
Miho Hatori MV, 2018
Digital video for Miho Hatori's New Optimism – 19 years old, CRT monitor, beads, disco tiles, tape, wire
07:40 min on loop
Bossa Nova Civic Cup, 2018
Plastic cup, hair accessory, shelf
10.5 x 16 x 12 cm
Galcher Lustwerk MV, 2018
Digital video for Galcher Lustwerk – Template, CRT monitor, speakers, beads, wire
05.58 min on loop
On the List, 2018
Stamp on entry, ink mark
OFFICE:
Crystalline, 2018
Magnesium, glitter on paper
25 x 28.5 cm