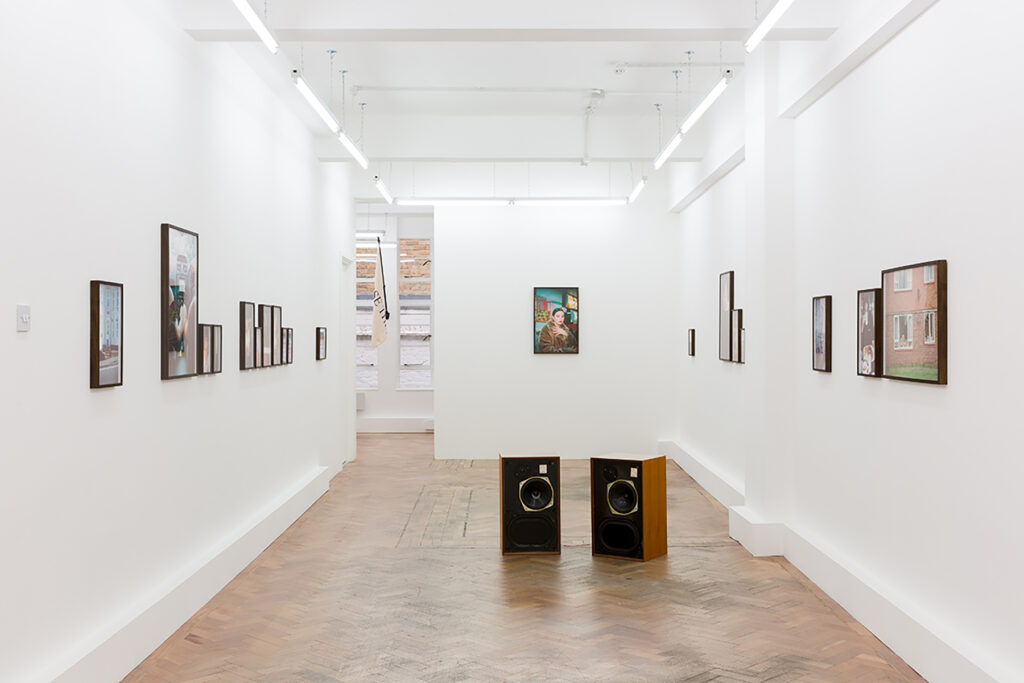 Arcadia Missa is pleased to present flags for countries that don't exist but bodies that do, an exhibition of photographs by Rene Matić, coinciding with the launch of their eponymous book by Arcadia Missa Publications.
'flags for countries that don't exist but bodies that do' is a love letter – written in images – bringing together photographs taken between 2018 and 2021. Although the photos were taken across England, theirs is not a love letter to this country or any other. As Hannah Black notes in her introduction to the book, Matić's rendering of London, and England more broadly, is anti-symbolic, "all drab brick and interior."
Photographs of council estates, sea-side towns and political graffiti sit amongst portraits of the artist's friends and family, unveiling a romantic celebration of an urban community that is both diverse and precarious. The framed photographs in the gallery all sit on one line, evoking a cityscape extending across the gallery walls. In these scenes of everyday life, traditional markers of identity and nationhood are subverted, as the artist expresses their complicated relationship to British-ness, one that is full of anger and resentment but complicated by love. This sentiment is further expressed in the sound piece Fuckin' Thank U, playing from two speakers at the centre of the gallery. Combining recordings of loved ones with pop cultural references that function as exemplifiers of conflicting notions of identity, from controversial rapper Azealia Banks to the artist's reciting the patriotic hymn I Vow to Thee, My Country, the piece reads as the artist's reverie, sitting between fiction and reality.
Rene Matić (b. 1997, Peterborough) lives and works in London. Through photography, painting, sculpture, film and textiles, their practice explores the immeasurable dimensions of Blackness. Working through the lens of personal experiences as a queer Black womxn living in the diaspora, Matić exposes the fated conflicts and contradictions that one encounters while navigating the world in a body like their own.
List of works:
From left to right starting from gallery entrance
Rene in Sheringham, 2019
Inkjet print, framed
41.2 × 28.3 × 3.5 cm (16 ¼ × 11 ⅛ × 1 ⅜ inches)
Jenny and Zac Holding Hands, 2019
Inkjet print, framed
72 × 52 × 3.5 cm (28 ⅜ × 20 ½ × 1 ⅜ inches)
Kai in White, 2019
Inkjet print, framed
26.4 × 18 × 3.5 cm (10 ⅜ × 7 ⅛ × 1 ⅜ inches)
Maggie in the Mirror, 2019
Inkjet print, framed
26.4 × 18.3 × 3.5 cm (10 ⅜ × 7 ¼ × 1 ⅜ inches)
Travis at BBZ South Bank Take Over, 2019
Inkjet print, framed
41.2 × 28.5 × 3.5 cm (16 ¼ × 11 ¼ × 1 ⅜ inches)
Maggie in Red, 2019
Inkjet print, framed
26.2 × 18.3 × 3.5 cm (10 ⅜ × 7 ¼ × 1 ⅜ inches)
Nadine Artois DJ'ing at Poly's Party, 2019
Inkjet print, framed
41.2 × 28.5 × 3.5 cm (16 ¼ × 11 ¼ × 1 ⅜ inches)
Ione in Fish Nets, 2019
Inkjet print, framed
41.2 × 28.3 × 3.5 cm (16 ¼ × 11 ⅛ × 1 ⅜ inches)
Peckham I, 2019
Inkjet print, framed
26.4 × 18.2 × 3.5 cm (10 ⅜ × 7 ⅛ × 1 ⅜ inches)
Mia and Cait Snogging I, 2020
Inkjet print, framed
26.4 × 18.2 × 3.5 cm (10 ⅜ × 7 ⅛ × 1 ⅜ inches)
Clap for Carers, 2020
Inkjet print, framed
28.2 × 41.3 × 3.5 cm (11 ⅛ × 16 ¼ × 1 ⅜ inches)
Maggie in Morleys, 2020
Inkjet print, framed
72 × 48.8 × 3.5 cm (28 ⅜ × 19 ¼ × 1 ⅜ inches)
Fuck Boris, 2019
Inkjet print, framed
26.4 × 18.2 × 3.5 cm (10 ⅜ × 7 ⅛ × 1 ⅜ inches)
VE Day, Skegness III, 2020
Inkjet print, framed
72 × 48.3 × 3.5 cm (28 ⅜ × 19 × 1 ⅜ inches)
Rene and Dad I, 2019
Inkjet print, framed
41.2 × 28.5 × 3.5 cm (16 ¼ × 11 ¼ × 1 ⅜ inches)
Ione's Shoes, 2019
Inkjet print, framed
26.4 × 18.2 × 3.5 cm (10 ⅜ × 7 ⅛ × 1 ⅜ inches)
Bikes in Chelsea, 2018
Inkjet print, framed
41.2 × 28.4 × 3.5 cm (16 ¼ × 11 ⅛ × 1 ⅜ inches)
Cait with Bruised Tattoo, 2020
Inkjet print, framed
41.2 × 28.5 × 3.5 cm (16 ¼ × 11 ¼ × 1 ⅜ inches)
Skegness, 2020
Inkjet print, framed
48.5 × 72.3 × 3.5 cm (19 ⅛ × 28 ½ × 1 ⅜ inches)
Black Lives Matter March II, 2020
Inkjet print, framed
41.2 × 28.5 × 3.5 cm (16 ¼ × 11 ¼ × 1 ⅜ inches)
Mia and Faith at BBQ, 2019
Inkjet print, framed
41.2 × 28.5 × 3.5 cm (16 ¼ × 11 ¼ × 1 ⅜ inches)
My Brother and Sister-in-Law, King and Queen of Peterborough I, 2021
Inkjet print, framed
72 × 48.8 × 3.5 cm (28 ⅜ × 19 ¼ × 1 ⅜ inches)
Lost Bike, 2019
Inkjet print, framed
26.5 × 18.2 × 3.5 cm (10 ⅜ × 7 ⅛ × 1 ⅜ inches)
Maggie in Pink, 2019
Inkjet print
41.2 × 28.5 × 3.5 cm (16 ¼ × 11 ¼ × 1 ⅜ inches)
Office (from left to right):
Tia at Boiler Room, 2019
Inkjet print
25 × 16.9 cm (9 ⅞ × 6 ⅝ inches)
Chiddy Doing Rene's Hair, 2019
Inkjet print
40 × 27 cm (15 ¾ × 10 ⅝ inches)
Rudi at Christmas, 2019
Inkjet print
25 × 16.9 cm (9 ⅞ × 6 ⅝ inches)
Rene at New Wave Tattoo, 2020
Inkjet print
25 × 16.9 cm (9 ⅞ × 6 ⅝ inches)
Occupied Bench, 2020
Inkjet print
26.9 × 40 cm (10 ⅝ × 15 ¾ inches)
Christmas Decs, 2021
Inkjet print
25 × 16.9 cm (9 ⅞ × 6 ⅝ inches)
Saving Ourselves, 2019
Inkjet print
40 × 27 cm (15 ¾ × 10 ⅝ inches)
Maggie and Rene II, 2019
Inkjet print
25 × 16.9 cm (9 ⅞ × 6 ⅝ inches)
Maggie and Rene III, 2019
Inkjet print
25 × 16.9 cm (9 ⅞ × 6 ⅝ inches)
Wrapping Paper Curtains, 2018
Inkjet print
40 × 26.7 cm (15 ¾ × 10 ½ inches)
Maggie at the Nunhead Flat, 2019
Inkjet print
40 × 27 cm (15 ¾ × 10 ⅝ inches)
Rene and Lola in Mum's Bed, 2019
Inkjet print
16.5 × 25 cm (6 ½ × 9 ⅞ inches)
Thank you to Hannah who just knew, 2021
Acrylic on calico, pole
153.5 × 113 cm (60 ⅜ × 44 ½ inches)