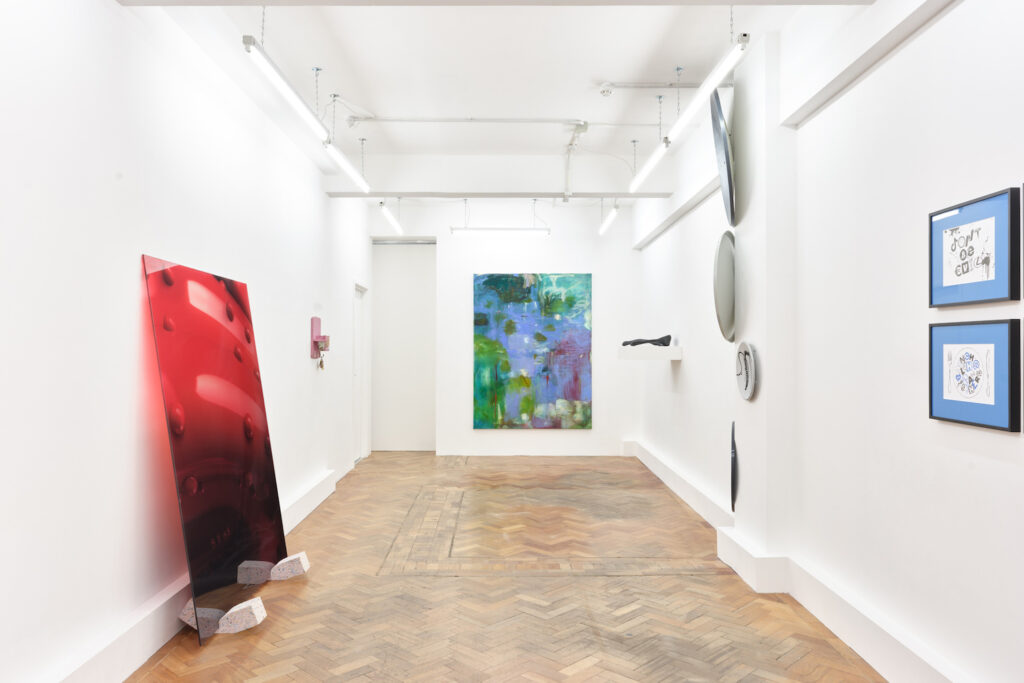 Ways of living 3.0 is the third exhibition in the series carrying the same name. The original exhibition (curated by Arcadia Missa at David Roberts Art Foundation in 2016) sought to present artists that "foster a still-needed sense of locality in response to problems of their time, place and situation." There is a focus on work that holds an intention to thrive in spite of the conditions of origin, in spite of their place in the system of this city. Recent hopes for London as a space of liberation, where one can resist definition, seem increasingly eradicated.
We present this show as a small snapshot of artists that have been a part of project spaces from pre and post the Brexit vote, who continue a culture in the city of experimentation, in the creation of scenes, culture and discourse. What are the cracks we exist in within the city, where are the moments of resistance, of joy, of contemplation. How do quotidian environments inform the atmosphere of the work?
The artists in this exhibition are just some of those that were part of an important network of people and conversations that ran through Arcadia Missa when it was a project space in a railway arch in Peckham, South London (2011-2016) alongside artists that have a current relationship with the young project space, Galerina (based in a bedroom in Homerton). In the time frame between the two projects, access to space has been further diminished, yet the audacity of both share an affinity.
Hannah Black
Hannah Black (b. Manchester, UK), is an artist and writer living and working in New York, US. Hannah Black's work brings together two different scales: both individual/psychological and collective/historical formative experiences of class, race and gender. Her videos and installations combine details of her own or other people's lives, such as a tooth implant or a role in a musical, with historical anecdotes and minutiae. The work is driven by a preoccupation with the limits and structures of relating, and influenced by communist and black radical traditions.
Recent solo exhibitions include The Meaning of Life, Art Gallery of York University, Toronto, CA (2022), Wheel of Fortune, gta exhibitions, ETH Zürich, Hönggerberg, CH (2021), CLEMENS, JACK, RAMEY, RAYMOND, SAM, schwarzescafe, Luma Westbau, Zürich, CH (2021), Ruin/Rien, Arcadia Missa, London, UK (2020), Dede, Eberhard, Phantom, Kunstverein Braunschweig, Braunschweig, DE (2019), Beginning, End, None, Performance Space, New York, US (2019) and Some Context, Chisenhale Gallery, London, UK (2017). Recent group exhibitions include, Biennale of the Moving Image, The Centre d'Art Contemporian Genève, Geneva, CH (2021), Manifesta 13, Marseille, FR (2020), Busan Biennale, Busan, KR (2020) and Sharjah Biennial, Sharjah, UAE (2020). Hannah Black's works are in major public collections including Tate, London (UK); FRAC Lorraine (FR); Mumok, Vienna (AS); Julia Stoschek Collection, Berlin (DE).
Adam Farah-Saad
Adam Farah-Saad – sometimes known as free.yard – is an artist, composer, sauce-maker and bootleg archivist born and raised in London, UK. They are also a Capricorn Sun, Leo Moon and Cancer Rising. Working in a range of media and performative gestures, from moving image, sculpture, poppers, peppers and iPods to walking, cruising and micro-dosing, Farah-Saad aesthetically highlights and dwells on various ephemeral and poetic moments, seeking to open up forms of critical reflection and connection in order to survive and grow as a human.
Previous solo exhibitions include B‐SIDES (THE RE‐UP / PSYCHOCRUISING FAITHFUL MIX), Public Gallery, London, UK (2023); WHAT I'VE LEARNED FROM YOU AND MYSELF (PEAK MOMENTATIONS / INSIDE MY VELVET ROPE MIX), Camden Art Centre, London, UK (2021); and PRAISE N PAY IT / PULL UP, COME INTO THE RISE, South London Gallery, London, UK (2018). His work has been exhibited in group exhibitions at Paradise Row, London, UK; No.9 Cork Street, London, UK; Galerie Sultana, Paris, France; Academy of Fine Arts Vienna, Austria; BFI Southbank, London, UK; LUX Scotland, Glasgow; Center for Contemporary Arts, Prague, Czech Republic; New Art Exchange, Nottingham, UK; Eastside Projects, Birmingham, UK; DOC, Paris, France; The Showroom, London, UK; Auto Italia, London, UK; and Arcadia Missa, London, UK. He has been the recipient of the LOEWE FOUNDATION / Studio Voltaire Award, London, UK (2021); Artist Residency, Camden Art Centre with Metroland Studios, London, UK (2021); and South London Gallery, London, UK, Postgraduate Residency Award (2017). His work is part of the permanent collection of the Arts Council, UK.
Gretchen Lawrence
GRETCHEN LAWRENCE (b. 1997 Tallinn EE) is a performance and audio-visual artist working with found objects, animation and digital media. At the centre of her approach is a process of rendering accidental resource into subjects that map an identity matrix of a first generation post-Soviet capitalist consumer. Pre-mastered Apple Loops and skinned furniture within Lawrence's collage are animated in their interaction as nodes mapping out the artist's critical reflection on the Western visual culture characterised by chance, mass production, and nostalgia cycles. Recent projects and performances include Slow dance (2), Stadtgalerie, Bern CH (2023), World as diagram, work as dance, Emalin, London UK (2023), My Spiral, Galerina, London UK (2022), MoMa Bra with Coumba Samba, Hospitalet, Stockholm SWE (2022), Hello, Galerina, London UK (2022), Pedro Youth Club Fundraiser with Coumba Samba, Pedro Youth Club, London UK (2022), Associations with Ed Fornieles, Carlos Ishikawa, London UK (2021), life with Kris Lemsalu, Goldsmiths CCA, London UK (2019), Sticking Dawn with Gelitin and Liam Gillick, Kunsthalle Wien, Vienna AU (2019), Opening of Baltic Pavilion, Venice Biennale, Venice IT (2019), Hydrogen Night, Baltic Triennial, kim? Contemporary Art Centre, Riga LV (2018), Tour Visuals for Tommy Cash, Tallinn EE (2017-2021).
Georgie Nettell
Georgie Nettell's practice could be defined as a revisiting of the tactics of institutional critique in a financialised, algorithmic present. Through various mediums including painting, photography, sculpture and video, Nettell has critiqued the value of art work in the gallery, the artist as producer, the aesthetics of minimalism and abstraction, the creative worker in the home, and what she has called the "fascism of everyday life", often demonstrating the very process of critique and what is being critiqued in the doing.
Selected solo exhibitions include Reasons, Galerina, London, UK (2022); Totalitarian Typeface II, Galerie Lars Friedrich, Berlin, DE (2022); Totalitarian Typeface, Leech, London, UK (2021); Pre War Abstraction, Project Native Informant, London, UK (2020); The Vivid Present, Reena Spaulings, New York, US (2019); Every Lie has an Audience, Aesthetik01, Berlin, DE (2019), Deeply Subjective and Intensely Personal, Kunstbunker Nürnberg, DE (2018). Selected group exhibitions include good with Merlin Carpenter, Leech, Berlin, DE (2023); Group Show, Halle für Kunst, Lüneburg, DE (2023); Retail Apocalypse – Chapter 3: Renaissance, Centre Canadien d'Architecture, Montréal, CA(2022); Where Isnt Here Now, 3236RLS Le Bourgeois, London, UK (2022); Axiomatic Method, Centralbanken, Oslo, NO (2022) What System, Chisenhale Gallery and Genesis Cinema, London, UK (2019); Post-Apocalyptic Formation 1, FELIX GAUDLITZ, Vienna, AT (2019); The Vitalist Economy of Painting, Neu, Berlin, DE (2018); with Onyeke Igwe and Ed Lehan, Cordova, Vienna, AT (2017); with Morag Keil and Ed Lehan, Telephone, Jenny's, Los Angeles, US (2015);Punks Not Dead Its Different with Morag Keil, Frieze London with Project Native Informant, London, UK (2015); The End of Violent Crime, Queer Thoughts, New York, US (2015); Welcome, You're in the Right Place, Fondazione Sandretto Re Rebaudengo, Turin, IT (2015); Performance, Whitney Museum of American Art, New York, US (2013)
Megan Rooney
Rooney's (b. 1985, South Africa) paintings respond to living conditions, be that the light in an artist's studio, or the materials they encounter, or that the tone of a place necessitates that some part of the creative process must insist on pleasure, or occupation. A keen observer of the city, Rooney assembles paintings initiated from reinvented motifs and remembered sight-lines, often from sites of building and excavation. They stand as neither subject nor representation, but there is always the blurred sense of beginning from the material world.
Based in London, Rooney grew up between South Africa, Brazil and Canada, completing her BA at the University of Toronto followed by an MA in Fine Arts at Goldsmiths College, London in 2011. Her work has recently been shown in solo museum exhibitions, including at the Salzburger Kunstverein, Salzburg (2020–21); Museum of Contemporary Art, Toronto (2020); and Kunsthalle Düsseldorf (2019). Her performance EVERYWHERE BEEN THERE, created in collaboration with choreographer Temitope Ajose-Cutting and musician Paolo Thorsen-Nagel, premiered at the Kunsthalle Düsseldorf in 2019. The year prior, she performed SUN DOWN MOON UP as part of the Serpentine Galleries' Park Nights programme in London. Rooney's work has also been presented in numerous group exhibitions, including at the Fondation Louis Vuitton, Paris (2022); the Ludwig Forum für Internationale Kunst, Aachen (2021); Lyon Biennale (2019); Museum of Modern Art, Warsaw (2019 and 2017); Palais de Tokyo, Paris (2018); Venice Biennale (2017); David Roberts Art Foundation, London (2017 and 2014); and Fondation d'entreprise Galeries Lafayette, Paris (2014), among others.
Coumba Samba
COUMBA SAMBA (b. 2000, Harlem, New York City US) is an interdisciplinary artist based in London, UK. Her work is rooted in studying process, hybridity, materiality and modes of visual communication. Samba investigates the uneasy relationships between the durable and the temporary against a backdrop of uncertainty and accelerated cultural consumption. At the core of her enquiry is an unlikely event of love-making spawning semi-randomly against the odds of it's unfriendly origin, where color, symbol and tone are utilized as instruments for formative and conceptual upcycling.
Recent projects and performances include World as diagram, work as dance, Emalin, London UK (2023), Couture, Galerina, London UK (2023), MoMa Bra with Gretchen Lawrence, Hospitalet, Stockholm SWE (2022), Hello, Galerina, London UK (2022), Pedro Youth Club Fundraiser with Gretchen Lawrence, Pedro Youth Club, London UK (2022), Chair Food Paper, Biblioteka Peckham, London UK (2022), FIELD Zine, published by XYZ Collective, London UK (2019-2021).
Divine Southgate-Smith
(b. 1995, Lome, Togo); Royal Academy of Arts, Graduate (2019-2022). London-based Togolese-British transdisciplinary artist. Divine Southgate-Smith has developed a practice comprising film, text, performance, sculpture, CGI and 3D rendering. She/They navigates speculative spaces where things are abstracted, contextualised, de-contextualised, voiced, or silenced. Questioning the traditional equation between sight and understanding – Southgate-Smith touches on themes of oppression, stereotyping, intersectionality, empowerment, and joy. In 2022 she/they published her/them first book as part of an ongoing series: TEETH KISSIN' Where Elephants Reside, Lichen Books, and All Purpose Studios. Selected Exhibitions: Of Mythic Worlds, Curated by Harold Offeh, Presented at Sainsbury Center for Visual Arts, Norwich, United Kingdom, FEŸ 2022, Presented at Feÿ Arts, Château du Feÿ, Villecien, France, 144, Presented at Reference Point, 180 Strand, London, United Kingdom, The Practice of Listening presented at Royal Academy of Arts, London, United Kingdom (2022), FRENTE n2 presented at Desterro, Lisbon, Portugal (2019), Europe Under Construction presented at SCHRILL, Braunschweig, Germany (2019), (Putting words) in my mouth presented at Galeria Foco (2019), Mellifluous Elephant presented at Casa da Dona Laura, Lisbon, Portugal (2019), PADA STUDIO presents Capitulo presented at Auditório Municipal Augusto Cabrita (2019), Feedback presented at The Switch Gallery, Lisbon, Portugal (2019), Dis (Places) presented at Galeria Foco, Lisbon, Portugal (2019). Curated Exhibitions: Painting Beyond Itself (2017) Film In Performance | Performance In Film (2017) Spacial & Temporal Boundaries (2016) presented at 14th Cinema (co-founder).